AU $16.95
Makes 6 loaves
Store-in-your-pantry sourdough starter (no regular feeding)
100% Authentic sourdough

Free delivery Australia-wide
International customers click here
Checkout safely via PayPal
Description
Welcome… to your very own sourdough love story!
The recipe process included with this sourdough starter is uniquely designed to avoid flat sourdough bread and minimise the overall hands-on time. It's 'easy' sourdough!
Store in your pantry and feed only when you want to bake.
This is perfect for you if:
✔️ You'd like to bake with sourdough weeks or months apart
✔️ You've had trouble making a sourdough starter or sourdough bread
✔️ You'd like to bake sourdough on holidays (travel)
✔️ You'd like to try making sourdough bread without having to commit to the process
Expect
– Subtle sourdough flavour
– Buttery sourdough aromas
– Easy process, specifically designed to avoid flat sourdough bread
✔️ No courses, experience, bread machine, bannetons or other special equipment
✔️ Traditional, authentic, artisan sourdough with easy to achieve results
✔️ No-knead, foolproof bread process
✔️ You can make anything 'sourdough' including pizza
You will need
– Digital kitchen scales
– Bread flour (12-13% protein), salt, water (see recommended bread flours)
– A warm spot (suggestions provided)
– A Dutch oven or pizza stone to bake or (hacks for mimicking these are included)
Turn around time
48 hours up to 4 days based on temperature (tips included)
Purchase includes
– 30g Australian, organic, maintenance-free sourdough starter*
– Recipe + Pro Tips
– Important flour information including where you can buy bread flour in Australia
*Each packet makes 6 loaves of sourdough bread, 36 pizza bases or any variety of sourdough things. The packet will come with a Best Before Date of 1 year. The longer it is stored the more warmth, time and feeds it needs to come back to life.  The starter will however last indefinitely. Just add TLC. 😊 If you need, use the 'Rescue' section of the recipe card.
Perfect for beginners, busy people, occasional bakers and cooking with children.
🖤 HANDMADE IN AUSTRALIA
100% Australian ingredients | Australian owned & created
Storage: Keep flakes in a cool dry place. Do not refrigerate or freeze. Do not get wet. Use dry utensils/hands.
Ingredients: Organic Australian wheat flour, filtered water, wild sourdough cultures.
Allergen Advice: Contains gluten. May contain traces of sesame and/or nuts.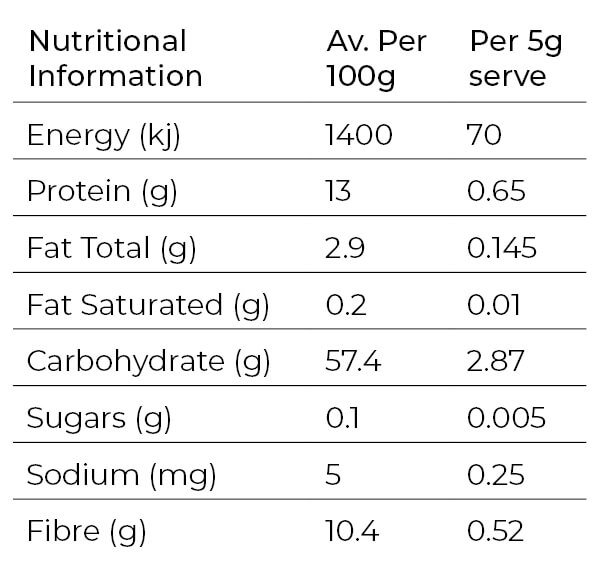 *NOT CURRENTLY ABLE TO SEND TO NEW ZEALAND**
This is a dehydrated, fermented food product. Please be aware of any incoming taxes or customs requirements in your country. They are not included in the listing. Contact me for any queries.
Additional information
| | |
| --- | --- |
| Weight | 60 g |
| Dimensions | 21 × 15 cm |